What is shockwave therapy?
Extra-corporeal Shock Wave Therapy (ESWT) is a non invasive procedure carried out within a clinic setting and requires no injections or medication, and provides an alternative to surgery. Shock waves are passed through the skin to the injured part of the foot, using a special device. Extracorporeal means outside of the body.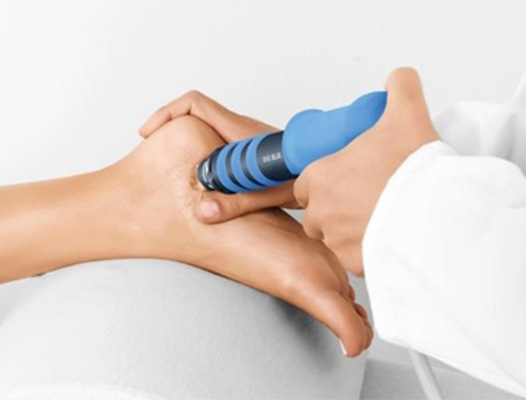 The shockwaves are mechanical and not electric; they are audible, low energy sound waves, which work by increasing blood flow to the injured area. This accelerates the body's healing process. You will usually require a course of three treatments, one to two weeks apart.
How does shockwave work?
On a cellular level, shock wave therapy has been shown in studies to reduce the quantity of nerve fibres that transmit painful impulses causing a reduction in pain sensation. It can also lead to an increase in tissue healing hormones such as "growth factor" and increase the formation of new blood vessels which may contribute to promote healing in the degenerate tissues.
When is shockwave therapy used?
ESWT is offered to patients with Achilles tendinopathy and plantar fasciitis, who have not responded adequately to traditional treatments such as physiotherapy, rest, steroid injection, ice therapy and painkillers. It is a minimally invasive treatment and you can go home the same day.
How long does the treatment take?
A normal session lasts 10 – 20 minutes and three sessions are recommended. It is common to experience some pain relief immediately after each session and all three treatments are required to maximise the effects of the treatment.
Will I feel any pain?
Most patients do experience some pain during the procedure. You will be asked how much pain you are experiencing during the treatment and we will attempt to adjust the treatment to help manage this. The pain will stop at the end of your procedure.
How can I prepare for ESWT?
You will need to ensure that you are available for the full course of treatment.
You can eat and drink normally before.
Please wear comfortable clothes as you will be lying on your front for the procedure.
What do I need to do after I go home?
You will be able to return to your usual activities straight away and can return to work immediately. However we advise you not to undertake any strenuous, pain provoking activity or high impact exercise for 48 hours following the procedure.
What are the risks and side effects?
You will experience some pain during the treatment, but you should be able to tolerate this. Following the treatment, you may experience redness, bruising, swelling and numbness to the area. These side effects should resolve within a week, before your next treatment. There is a small risk of less than 1% of tendon or ligament rupture and damage to the soft tissue.
What are the contraindications to shockwave therapy?
You are pregnant
You are taking anti-platelets (eg aspirin of over 75mg or clopidigrel) anticoagulants (such as warfarin or rivaroxaban)
You have a blood clotting disorder
You have been diagnosed with bone cancer
You have a cardiac pacemaker or other cardiac device
You have an infection in your foot or a history of tendon or ligament rupture
You have had any steroid injections in the previous 12 weeks
Further sources of information
National Institute for Health and Care Excellence (NICE)
NICE has produced recommendations for patients on ESWT for Achilles tendinopathy and plantar fasciitis. These documents can be accessed on the NICE website.
For Achilles tendon disorders:
Overview | Extracorporeal shockwave therapy for Achilles tendinopathy | Guidance | NICE
For plantar fasciitis:
Overview | Extracorporeal shockwave therapy for refractory plantar fasciitis | Guidance | NICE